When Alex Hutchinson talks about favorite and inspirational clarinet players, it's always on a first-name basis - Benny, Artie, Woody, Buddy, Tony and Eddie. Fortunately, I know of whom he speaks, having also been a long-time fan of Messrs Goodman, Shaw, Herman, De Franco, Scott and Daniels.
I also know that there is a certain smug, masochistic streak common to the great clarinet players (and Alex Hutchinson certainly is one), knowing that they can control that most difficult of all instruments on which to play jazz. Known among reedmen as the 'agony pipe', the clarinet, according to American jazz master Kenny Davern, was designed by two different people who didn't know each other! Despite this, Alex has always listed clarinet as his major instrument and, doubling on saxophone, has for over thirty years, been regarded as one of Australia's premier professional musicians.
Being chosen to play with visiting performers, or blowing on sessions ranging from Dixie to Bebop and beyond, Alex does it all; but I know his very favourite thing is to front a small combo of the very best players, working over some of the all-time great tunes on his beloved 1961 Selmer clarinet.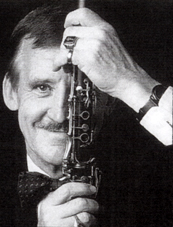 And that's what we have right here on, amazingly, Alex's very first recording as a leader, The Goodman Touch. I know it sounds trite, but they just do not write songs like these any more. It's thanks to jazz that we can still hear wonderful tunes like 'More Than You Can Know'. 'My Romance', 'Easy Living', 'Indian Summer', etc. 'Gundagai' may not be regarded as one of the great standards, but it is fiercely Australian, just like the quartet's leader. Alex Hutchinson has always been quick to stand up for his fellow Australian musicians and was for many years President of his local Musicians Union in Melbourne.
Currently, Alex is heading a trio playing for Sunday Jazz Brunch at the Savoy Park Plaza Hotel (formerly the Savoy Plaza) in Melbourne, with Helen Jouwsey on piano and Geoff Kluke on bass, a gig that Alex has had for the last four years. Helen has led her own trio for many years, been resident TV studio pianist, accompanist, backing vocalist, music director and teacher of jazz piano at the Victorian College of the Arts. Geoff has worked with the very best, including famous US jazzmen Phil Woods, Herb Ellis, Charlie Byrd, Dewey Redman and Nat Adderley. Helen and Geoff's playing on the CD is an absolute delight, especially their inventive, well-constructed solos.
It's great to hear producer Bruce Clarke guesting on four of these tracks. Bruce was one of the first modern amplified guitarists to make an impression in this country - in the late forties - and he sounds s right on these Goodman-style quintet items.
Drumming duties here are shared by two top versatile pros who are very much at home in the small-group jazz idiom Ron Sandilands and Dean Cooper. This, in a sense is quite ironic, in that Dean has always regarded Ron as his mentor.
So here it is - With love from Hutch
plus bows in the direction of Benny, Buddy, Tony, Eddie and Co.
The Goodman Touch
Thanks Alex, but what kept you so long?
Alex Hutchinson
clarinet
Helen Jowsey
piano
Geoff Kluke
bass
Bruce Clarke
guitar
Dean Cooper
drums [tracks 3,6,10,12]
Ron Sandilands
drums [tracks 1,2,4,5,7,8,9,11,13,14]

Alex Hutchinson plays a 1961 Selmer 9 star Clarinet with a No 3 Bari Buddy De Franco Model Mouthpiece and uses No 2 Mitchell Lurie Reeds

CD excerpt from 'My Romance'

{MP3: 248kb}
1
Road to Gundagai (O'Hagan)
2
More than you know (Eliscu/Rose/Yuomans
3
Smooth One (Goodman)
4
Nancy (Silvers/Van Heusen)
5
Smiles (Callahan/Roberts :)
6
Ja Da (Carleton)
7
Londonderry Air (Arr. Hutchinson/Trad)
8
Jé Ne Sais Pas (Jones/Hampton)
9
So Rare (Herst/Sahrpe)
10
Olds Folks (Robinson/Hill)
11
Indian Summer (Dubin/Herbert)
12
My Romance (Hart/Rodgers)
13
Easy Living (Rainger/Robin)
14
Blues for Hutch (Hutchinson)
Jazzaht CC49520
Producer - Bruce Clarke
Engineer - Tim Johnston
Photography - Leanne Summers
Artwork - Daily Messenger
Recorded at Metropolis Audio South Melbourne, September 27, 1994 and March 10, 1995